Welcome to TJ Joinery – Joiners Wigan and the local area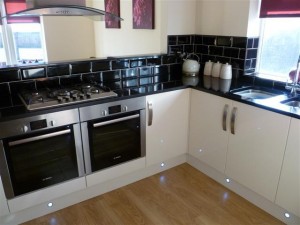 TJ Joinery aka Joiners Wigan is a small, friendly and highly professional joinery company based in Wigan and serving the local area.
Proprietor Tom takes a great deal of pride in his work and carries out all aspects of joinery from roofing to flooring, from kitchens to office refurbishments and from decking to skirting boards.
Thanks for stopping by here at TJ Joiners Wigan
Feel free to take a look around this website where you can find examples of previous joinery work and also get in touch with TJ Joinery Wigan.
The benefits of choosing Wood
Timber offers a natural, environmentally sound and sustainable material for building with, not to mention how well it can attribute its self to the decorative aspect of your home. This maybe goes quite a way to explain why it's been a choice building material for thousands of years. It can also be a great investment from the point of view that if you treat it well it can last tens of years or even hundreds with the ever advancing treatments available, your timber can now be maintained with minimal fuss. If you take into consideration the insulation qualities and strength this material offers coupled with the ability to easily repair and maintain, it's not difficult to see why it's been such a popular choice for so many years.
Timber VS Plastic
More popularly known as PVC-u plastic windows became incredibly fashionable in the mid nineties, promising low maintenance and cost benefits, however due to environmental reasons and public awareness people are re thinking their stance on PVC-u and figures show that the timber option is benefiting from a general resurgence.
As suggested by a recent Greenpeace report, if you are careful on how you treat and maintain your timber, and ensure it's properly sourced, timber windows are easily a winner from a environmental point of view.
Timber Choices
You may have heard the terms soft wood and hard wood, generally speaking hardwood is the best choice often offering a higher resistance to rot.
Some of the popular timbers you may consider-
Hardwoods
• American white oak
• Sapele
• Ash
• Iroko
• European Oak
• Black American Walnut
• Maple
• Tulip
Softwoods
• Douglas Fir
• Redwood/ Pine
Along with a choice of differing timbers also consider the treatments and finishes which go along way to increasing the life expectancy of your wood. But for more info and advice please feel free to call Tom at TJ Joiners Wigan on 07934 150 185